Unbelievable Benefits of Coconut Water for Skin and Hair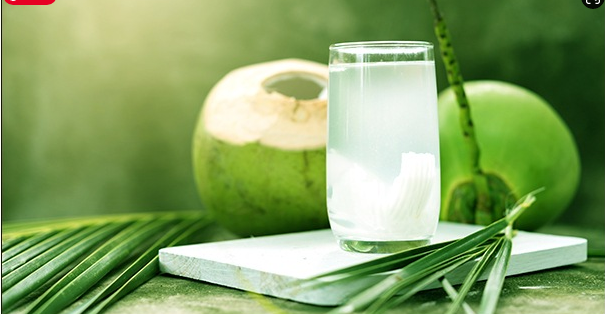 The water from Cocos nucifera aka coconut is believed to be a boon for skin and hair. The stone fruit has sweet water that possesses high nutritional value. According to beauty mavens and even science, coconut water has loads of amino acids, vitamins, electrolytes, minerals, and omega 3 fatty acids. Given below is a rundown of the stupendous benefits of coconut water for skin and hair. Have a look!
Skincare Benefits of Coconut Water
There are myriad benefits of coconut water for face and body. Here are a few of them:
Moisturizes Skin
Coconut water is extremely hydrating and hence can remedy dry skin. It also works as a great cleanser and nourishes as well as hydrates the skin from the inside out. To moisturize, simply dab your face with cotton soaked in coconut water in the morning. Wash off after 5 minutes. Do this again before going to bed. You can also add a few drops of coconut water to your facial serum, oil, or moisturizer.
Cleanses & Tones the Skin
Coconut works as a natural cleanser as well as toner. Besides removing impurities from your face, it helps to balance the pH levels of the skin. Simply add some coconut water to rose water and use the mixture as a toner. Cleanse your face after waking up with coconut-lemon juice mix. After toning your face, follow with a good moisturizer.
Great for Acne
If you suffer from acne, the miraculous coconut water can come to your rescue. A study shows that this water has antimicrobial virtues and can help fight acne. However, the study is insignificant to show that topical use of coconut water can treat acne and related scarring. The best is to use coconut water in conjunction with acne-fighting ingredients like turmeric to heal your pimples.
How to Use Coconut Water For Acne
Splash some coconut water on face every morning. Create a face mask with sandalwood powder, turmeric, and coconut water. Use this mask twice a week to speed up the acne healing process. Alternatively, use a mix of aloe vera gel, coconut water, and turmeric. Complement the mask usage with a good anti-acne cream for best results.
Caution: We recommend visiting a dermatologist if you have severe acne instead of trying this DIY remedy.
Dispels Fine lines & Wrinkles
Apart from possessing anti-microbial properties, coconut water has anti-aging agents that can help keep the signs of premature aging at bay. It also contains a protein called cytokines that promote cell growth and cell activation. A 2015 animal study found that coconut water intake can counteract the free radicals and premature aging caused by them.   
Coconut water is also a rich source of vitamin C that plays an important part in skin health. According to science, this macronutrient stimulates collagen synthesis and guards the skin against UV-induced photodamage. As we age, we tend to lose collagen and ultimately lose skin elasticity and tightness. Consuming vitamin C will boost the elasticity of the skin and keep it taut for longer. Not just this, vitamin C also maintains hydration levels of the skin and keeps it plump and fresh.
How to Use Coconut Water For Skin Aging
Increase cell turnover and prevent fine lines and wrinkles by drinking coconut water regularly. Apply a face mask prepared from coconut water and yogurt twice a week to keep skin nourished and tight. Yogurt is a skin exfoliator and brightener. It will expunge the dead skin cells and will clean the skin deeply.
Lightens Pigmentation
Hyperpigmentation or the formation of dark patches on the skin is a common skin woe, especially among women. The skin condition is caused by sun exposure, aging, melasma, skin inflammation, and certain medical conditions. Fortunately, coconut water can treat the dark spots on your skin and restore your skin's natural color. Reason – it has vitamin C and other skin-benefiting ingredients that can remove scarring and pigmentation.
How to Use Coconut Water For Hyperpigmentation
Make a paste of Fuller's earth aka Multani Mitti with coconut water. You can also add a pinch of turmeric along with yogurt to increase the efficacy of this face mask. Apply on your face and leave for 10 minutes before rinsing it out with cool water. If you have acne or sensitive skin, skip yogurt as it is acidic.
Removes Sun Tan
The vitamin C content in coconut water reduces skin tan that is caused by long exposure to sun rays. To prepare a tan removal mask with coconut water, mix the water with yogurt and lemon juice. Apply this mask with a brush on the affected areas and then remove the mask while scrubbing after 10 minutes. If you have sunburn, add sandalwood powder to the mask to soothe the irritated skin.
Eliminates Dead Cells
If you have dull skin, it may be because of the accumulation of dead cells on the surface of your skin. Coconut water can act as a scrub and extricate your skin from these cells and eventually reveal fresh skin.
How to Use Coconut Water as a Facial Scrub
Take coconut water and mix them with grounded oats or coffee powder. Use this mixture to scrub your face after cleansing it with a gentle face wash. Remember not to over-exfoliate your face and always be gentle while scrubbing.
Hair Care Benefits of Coconut Water
Coconut water benefits for hair exist aplenty. Some of the benefits of coconut water for hair include the following:
Conditions Hair
Coconut water has hydration properties due to the electrolytes present in it. So, if you have dry and rough hair, washing your tresses with coconut water will restore hydration and make them smooth and silky.
How to Use Coconut Water for Hair Conditioning
Take coconut water and blend it with avocado oil or any other of your choice. Massage your scalp with this mixture and wash it out after an hour. You can also use the coconut water and oil blend as a hair serum and use it post hair wash.
Reduces Hair Fall & Boost Hair Growth
Coconut water has lots of hair-benefitting vitamins, minerals, and fats that not only combat hair fall but also promote new hair growth. Massaging your scalp with coconut oil will also carry oxygen and other nutrients to hair follicles and promote healthy hair.
For hair loss and hair growth coconut water, massage coconut water while taking a bath. Leave on hair for half an hour before washing your hair with a chemical-free shampoo. Also, make sure to drink water from at least one coconut for faster hair growth.
Removes Dandruff
Coconut water can remove those white flakes and give you a clean and healthy scalp. Use the water with neem oil for best results. All you need to do is to massage your scalp with coconut water and neem oil blend thrice a week and then wash off with lukewarm water.
Fortifies Damaged Hair
The electrolytes and omega 3 fatty acids present in coconut oil can resuscitate damaged hair and restore them to its healthy state. To repair damaged hair, mix the coconut water with apple cider vinegar and yogurt. Massage the resultant mixture on your scalp and hair strands. Leave the mask for 30-40 minutes before washing it off.
Conclusion
There is no sufficient scientific evidence to show that coconut water can benefit your hair and skin. However, propellants claim that coconut water can improve the overall health of your skin and hair. Consuming the water will provide essential electrolytes, healthy fats, minerals, and vitamins to your body which will eventually benefit skin and hair health.