4 Healthy Habits to Start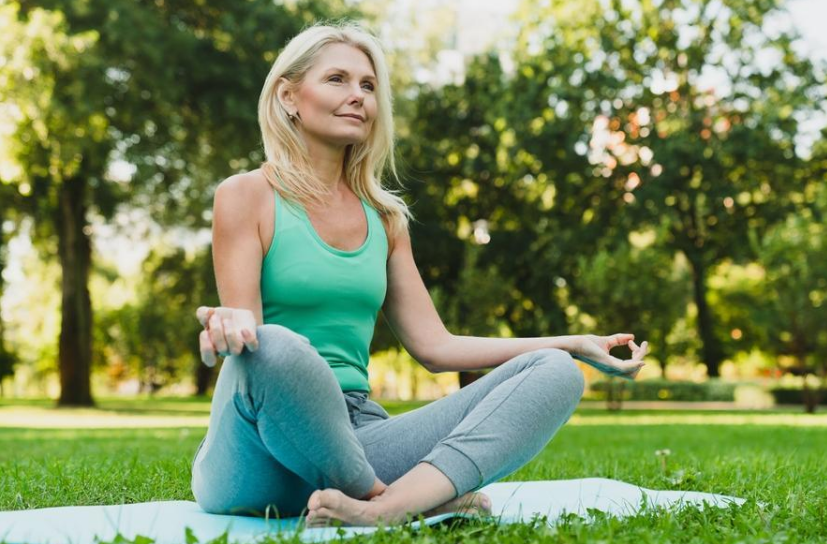 There are many ways to live a healthier life, so begin with positive and healthy habits you can build over time. We're sharing some of the best ways to nourish your mind and body. With regular practice, you'll feel better from the inside out.
Source: Inside Creative House/Shutterstock.com
1. Eat a Healthier Diet 
Everyone can improve how they eat and cook. Start by swapping unhealthy ingredients for more nutritious ones. Read the nutrition labels on your favorite products. If you love to bake, use plant-based chocolate with less sugar and carbs. Enhance your recipes with plant-based baking chocolate and natural, non-alkalized cocoa powder. Some of the tastiest choices include fudgy vegan dark chocolate or creamy oat milk chocolate. If you use peanut butter, ensure it's a natural and low-sugar product. You may even prefer to switch it out with healthier nut butter.
Almond butter is a nutritious alternative, but there are other delicious varieties like pistachio butter or sunflower seed butter. Dairy substitutes such as plant-based milk are lower in fat and calories than cow's milk. As a bonus, they also have less sugar.
Now it's time to add more whole foods to your diet. Shop for plenty of fresh fruit and colorful vegetables. Berries have antioxidants and fiber, while cruciferous veggies like broccoli are rich in nutrients and help to detoxify the body. You can't go wrong with nutritious, leafy greens like spinach and kale.
Nuts and seeds will help to keep you full, while whole grains and dairy substitutes will help to round out snacks and meals. If you're looking for other healthy food products to try, shop for mealtime essentials like chickpeas or quinoa.
Source: Sergey Mironov/Shutterstock.com
2. Exercise Daily  
Exercise is a healthy daily habit. Regular physical activity has many benefits, including preventing disease and cancer. Being active helps you maintain a healthy weight. Workouts can also improve your mood and mental health.
With so many activities to try, you'll find an exercise you love. Don't forget to include strength workouts for healthy muscles and cardiovascular conditioning to protect your heart. If you like to go to the gym, you can lift weights and run on a treadmill. Exercise classes are motivating and can help you stay accountable. Yoga is an excellent activity for the mind and body. Try lap swimming if you want to immerse yourself in a new environment. Get out in nature by walking trails or hiking with friends. Aerobics will get the heart pumping, and you can always see new sights by bicycling.
One of the best parts about exercise is that it gets you out of the house. However, you can always use an exercise app or stream a workout video if you're short on time. If you need a reminder to get your heart pumping, add one to your watch or smartphone.
3. Practice Meditation
Meditation is a practice to train your awareness and clear your mind. Health benefits include relaxation and reducing symptoms of stress or anxiety. There are various ways to meditate, so find one that works for you. You can make it a healthy habit by setting time to meditate daily.
Soon, meditation will become a peaceful part of your routine. One of the most popular types of meditation is mindfulness meditation. This practice involves staying aware of the present moment. During mindfulness meditation, you may notice thoughts rise and fall away. A similar method is body-centered meditation, where you scan your body and focus on the feelings and sensations that arise. It's also possible to meditate with movement. Walking meditation involves clearing your mind and staying aware of the present moment while you walk in nature. If you prefer, you can meditate while you dance or move your body.
Begin your meditation practice for a few minutes each day. Gradually increase your meditation time until you can stay in the present moment longer. You can practice this healthy habit as often as you'd like. It's okay to change the nature of your meditation sessions as you see fit. Sometimes you may feel the need to recite a positive, uplifting mantra. Contemplation can help you consider new possibilities without letting your mind wander.
Source: Dean Drobot/Shutterstock.com
4.Drink More Water
We all know we need to hydrate to stay healthy. You may drink water throughout the day, but you still may not be getting enough. Most healthy adults need a minimum daily fluid intake of four to six cups of water. Everyone's body is different, so drink when you're thirsty.
It's also important to pay attention to symptoms of dehydration like dry mouth or lack of energy. Drinking water has many benefits, including normalizing your blood pressure and regulating your body temperature. When you drink water, you'll feel better throughout the day.
To encourage yourself to hydrate more, make it a habit to bring water with you wherever you go. A steel or aluminum water bottle will keep your drink cool and withstand daily wear and tear. Carry an extra bottle if you have trouble bringing it to work. Colorful prints and vinyl stickers will add personality to any cup.
Committing Yourself to Better Health
Congratulations on your commitment to better health! Building healthier habits takes time, so be kind and patient with yourself. The more you care for your body and mind, the easier it will be to stay on track. With a few easy swaps, you'll eat wholesome foods and cook with nutritious ingredients.
Exercise will help keep you strong and fit, while meditation and mindfulness will improve your relaxation and mental health. When you drink more water, you'll help to support your mind-body wellness. Finally, don't forget to show gratitude. You are on a path toward a better future! Healthy habits will help you build a stronger body and relationship with yourself.