INSPO ON CURLS: BEST HAIRCUTS FOR CURLY HAIR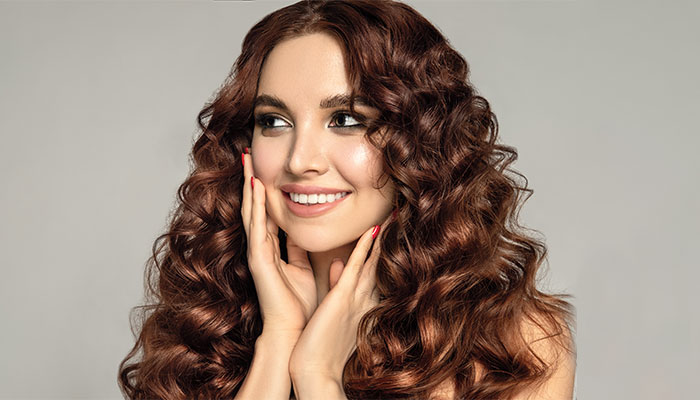 Argue all you want, but curly hair is NEVER boring; it's as versatile as it can get. The problem is curls tend to have a life of their own, so if you think you can tame them like your straight or wavy counterparts, you've got it all wrong. The truth is: they will not always look the same. However, if you choose the right haircut, you don't have to worry about the bad hair days. In fact, there's so much more you can do with your locks, as long as you are open to experimenting.
Best Haircuts For Curly Hair
Here's a lowdown on the best haircuts for curly hair.
1. Shoulder Cut
If you have thicker or denser curls, the shoulder cut will allow your locks to beautifully frame the face. Keep it simple without any bangs or fringes and ensure each curl is well trimmed so it doesn't sit on the one below it. This keeps your curls looking defined which is key to acing this look.
2. Layered Curls
Layered curls create a weightless shape while lending volume and movement to hair. It's perfect if you don't have defined curls and want to create the illusion of volume without the bulkiness. Layered curls usually work great with medium to long length hair.
3. Bob Cut
Ideal for short hair, bob cut plays with the natural texture of your hair to create a power statement look. The hair is cut just above the shoulder, and it can be shaped to partially embrace the forehead. It's especially great for people with round faces who want to introduce the illusion of angles to their facial structure.
4. Long Curls With Fringes
If you are aiming for the girl next door look, don't think twice before opting for the long hair with fringes look. The front has a hint of long curls that will frame your cheeks and allow you to be playful with your curls. A regular trim every 3 months will keep the cut looking fresh and structured.
5. Medium Cut With Highlights
If you don't want to compromise on the volume, opt for a medium cut. Highlighting the curls that fall over your shoulder will add life to dull locks. Use a volumizing spray or backcomb the hair on your crown area to keep it from looking flat. Mist a detangling spray to keep the curls from getting frizzy and collapsing on each other.
6. Side Parted Short Curls
Show off your short curls with a side partition. It slightly opens up the face and draws attention to the eyes while making your other facial features more prominent and defined. Smooth a hydrating serum to keep your curls bouncy and soft.
7. Stacked Curls
Stacked curls can give you the perfect runway-ready look. What's it all about? The hair is cut to create graduated layers which creates the illusion of a full-bodied and voluminous hair. When cut at the perfect angles, it allows room for more movement and looks uber chic. You can never go wrong with this one especially if you've long hair.
8. Basic Center Parted Curls
Centre parted cuts are ideal for highlighting facial features and framing the face. It might seem intimidating at first but if you style it right, you can definitely rock the middle part. Short or long, it works with any hair length and texture as well while still demanding low maintenance. When it comes to styling this look, lean onto a blast of sea salt spray for beachy waves.
Tips For Maintaining Curly Hair
From one curl friend to another: Lay off the shampoo. Stick to shampooing your hair juts once a week, and focus more on conditioning if you don't want to encourage more frizz.
Ask your stylist to cut your hair dry and not wet. Dry cutting allows better understanding of the shape and the amount of coils present in hair. A clear picture of how the hair will look post the haircut is possible only with dry cutting.
A hydrating mask may sound extra but trust us your curls could do with some hydration boost. It can give you shiny, bouncy and frizz-free curls until your next wash.
It's essential to close the cuticles and seal in moisture once your hair wash is complete. This can be made possible by ensuring the final rinse is with cold water. Warm water can be comforting but give the cold water treatment a try and you will notice the difference in your hair texture.
This may sound like a controversial tip but trust us, it helps to use a brush when your hair is damp. Opt for a wide-toothed brush so you don't end up ripping the hair from your head and detangle your hair before you section it and condition.
Thanks to the coils, curly hair tends to shrink and look shorter than it actually is. This is why it's important to cut lesser than you intend so you don't end up losing on the length.
When styling curly hair, the easier and safer method is using fingers. Using combs to distribute products can lead to hair breakage and split ends.
Do you brush your hair from roots to ends? It's time to reverse the direction. Brushing the ends first, helps detangle your hair from down. It then gets easier to move the brush from the roots and along the lengths to the ends without damaging or breaking strands.
Give the blow dryer a break. Whenever possible, let your hair air dry as it really lets the products sink in and doesn't cause the hair to frizz after drying. Regularly depending on the blow dryer for a quick dry can affect the texture of your hair and thereby rob your curls of their shine.
Tend to leave your hair open when sleeping at night? Tie your hair into a pineapple updo by loosely tying your hair on top of your head. This will prevent the curls from lying flat on your pillow and losing their shape by morning. On that note, also get yourself a silk pillowcase if you've still been using a cotton one. Why? Unlike cotton, the silk case won't cause friction a.k.a. frizz.
FAQs On Hair Cuts For Curly Hair
1. Suggest short haircuts for curly hair.
Recommended short haircuts for curly hair include pixie cut, shaggy cut, choppy cut, asymmetrical bob, undercut, and layered bob.
2. Suggest haircuts for long curly hair.
Recommended haircuts for long curly hair include long curls with bangs, layered curls, foundation cut, and A-line lob.
3. Will hair cuts for curly hair help the curls look better?
When done right, haircuts can enhance the natural curl pattern. It will help the curls appear springier and bouncier if they have been appearing flat of late.
4. Can hair go from straight to curly?
If the amount of androgens spikes in the body, it can alter the shape of hair follicles from round to flat which in turn may give rise to curly hair. A favorable combination of genetics, hormones and body chemistry can also change your hair texture and shape gradually and in such a case it's possible to go from straight to curly hair.