12 Thoughtful Ways to Thank a Nurse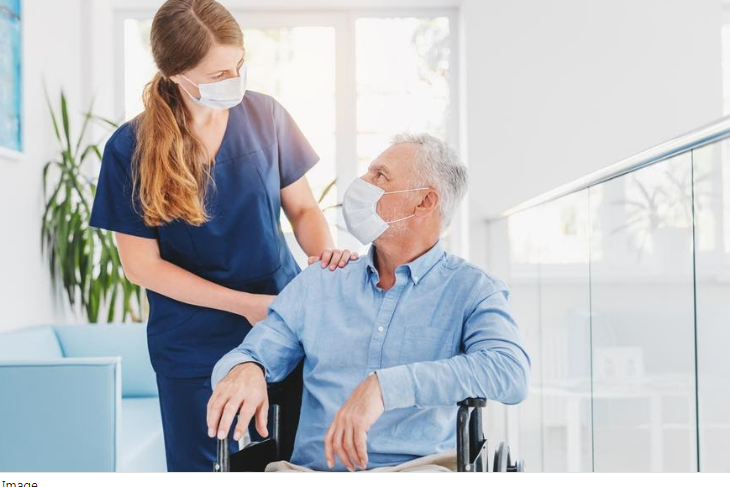 You may be watching your nurse pack their things up at the end of your appointment, or you may be watching your daughter pack her favorite medical bag for her nursing shift — but you've probably found yourself running through lines wondering what you can say to express how thankful you really are for their efforts and selflessness. Let them feel their impact on you by making a big one on them, and say thank you in one (or more) of the thoughtful ways found below.
Source: TierneyMJ/Shutterstock.com
Thank You, From a Patient
There are certain things that only your nurse can do for you. Likewise, there are certain things that only you can do for them as a patient. These are things that can make their life a little easier and show your appreciation for what they do, while they do it.
Wear your mask. Whether there's a pandemic playing a part, or you're simply still trying to shake a bad cold, it's important to remember that nurses are in an environment that poses a lot of risks to their own health. Showing them that you care about this with simple initiatives like wearing your mask will be significant to them.
Wear a smile. While we may all have our smiles subdued by masks, wearing a smile still shows through! By staying positive, wearing a smile and being understanding and giving your patience to your nurse, you will be saying "thank you" the whole way through.
Give them a handwritten note or card. Nothing says thank you like a literal note or card that says "Thank You." Not only is this one of the most clear ways to give thanks to your nurse, but a great memento and booster for them — and an opportunity to explain how exactly they've impacted you as a patient. BONUS POINTS if you do this virtually in the form of a business review or social media shoutout!
Thank You, From a Colleague
Whether they covered a shift for you, or they had your back on the floor one day, there's no one who understands what they go through like you do — so show them!
Gift them a nice set of scrubs. As a nurse, you know that you can never have too many scrubs. You also know that the options are endless and exciting. When it comes to gifting a set of scrubs though, if the options are TOO endless and overwhelming, consider gifting them your favorite brand of cotton scrubs — as a nurse who knows them well — in their favorite colors or style to show them that you notice them both personally and professionally.
Give them a break. While breaks should already be encouraged for nurses, more often than not they feel like an amazing gift. Thanking your colleague by giving them an extra break is going to let them know that you actively support them as much as they support you, their patients and the rest of your colleagues, and that you value their well-being.
Gift them a pair of compression socks. There's no doubt that you've had more than your fair share of foot pain — which means that your colleague has, too. Compression socks are the key here. Considering how cute they can be, they are also a cool gift to let your colleague know that you appreciate every moment they've spent on their feet.
Source: Oleksii Synelnykov/Shutterstock.com
Thank You, From an Employer
The relationship between a nurse and their employer is a lot different than most — and while there may be more of a range to navigate sometimes, it doesn't have to be difficult! No matter what your employer-employee relationship is like, consider saying thank you and:
Gift them special scrubs. No matter what the item, wearable gifts keep on giving every time they're worn. They're the perfect mix of exciting and practical — not to mention the fact that they have the potential to be extremely thoughtful. Something like a luxury set of embroidered scrubs, for instance, is sure to make the nurse on your team feel appreciated, accepted and adored all around. 
Give them PTO. There's no better way to thank a nurse on your team for what they do than by showing them that you understand it's not easy. Paid time off, when possible, will show the nurse on your team that you've noticed the extra mile they've gone, know what it feels like and want to support them and thank them in the most genuine way.
Gift them coffee in any form. Good coffee goes a long way with nurses, so consider a membership to a local coffee house that you love, a gift card to a cafe they love or a subscription box that'll make them try new coffee they didn't even know they loved — because there are no wrong answers!
Thank You, From the Family
Whether the nurse you're hoping to thank is part of your family, or you're part of their patient's family, they've undoubtedly touched your life for the better and helped the people around you. This calls for a special type of thank you, so:
Make sure they're eating. Not only are nurses notorious for neglecting their own personal needs and putting others first, but family always keeps each other fed! This is the ultimate way to show that you care, say thank you, celebrate achievements and even bond if you choose to eat together. Along with all of this, there is a lot of versatility when it comes to saying thank you with food. Depending on what you're saying thank you for, this could mean anything from a container of homemade cookies to a healthy snack subscription service!
Gift them an ID holder. While this may seem like an odd choice to you, it's bound to make a major impact on them! Working in such a fast-paced and busy environment means that your efforts and special features often go unnoticed. When someone remembers you (let alone your name) as a nurse, it means a lot, and when they want to help you showcase it, it means much more than thank you.
Be an activist for them. With a lot of harassment being hurled toward nurses as of late, and all of the hassle they've gone through forever on a daily basis, being an activist for any and every nurse is the ultimate way to show your appreciation for what they do.
Source: FREEPIK2/Shutterstock.com
Thank You, For…
Physically, mentally and emotionally, nurses are challenged on a daily basis. And while no nurse is in it for the reward or recognition, getting a patient that is genuinely grateful for everything they've done and gone through for them makes it worth it, and is what will drive them to continue on in this role.
So while May 6 marks the beginning of National Nursing Week every year, this is a celebration that you can never be too early or too late for!