How to Eat Healthily and Avoid Stress This Holiday Season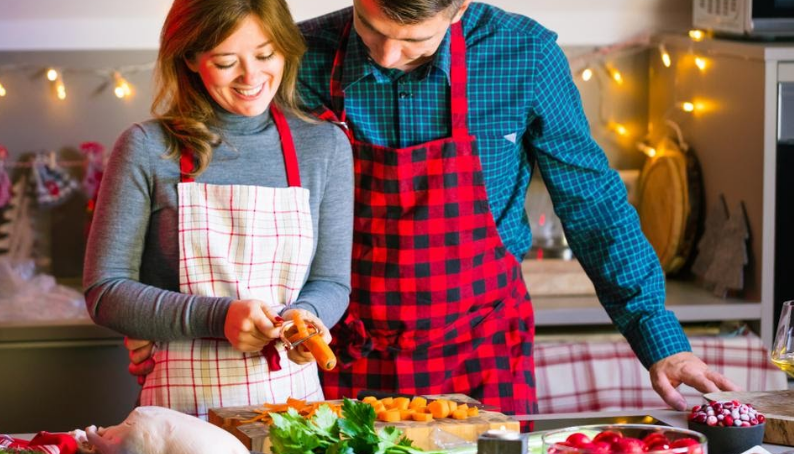 The holiday season is a time to enjoy and celebrate with family and friends. However, it can also be a time of increased stress, emotional eating and weight gain. It's important to know how you react to the demands of this busy time in order to make sure that your health doesn't suffer during the holidays. The four key steps outlined below will help you combat some common challenges during this time:
Figure out your stress levels.
Don't let your diet slide into bad habits.
Keep up with exercise.
Find some fun activities that will reduce stress.
These four steps are all about making choices — choosing what's best for you and sticking with it! In them, we'll cover everything from natural supplements like CBD products to incorporating physical activity into daily life. You'll be set for success. Let's get started!
1) Figure out your stress levels.
This is probably the most important step, so it's worth taking some time on. Too much holiday stress can have a negative effect on both our physical and mental health. It can also lead to emotional eating — usually in the form of choosing unhealthy food over more nutritious options. According to research, this may lead to unwanted weight gain that is tougher to get rid of.
If you're unsure about how to figure this out, a great first step is to track your mood over the holidays on a scale of 1 to 5, with 1 being no stress and 5 being extremely high.
Once you know your score, try some relaxation techniques whenever you peak above 3. These can include meditation or deep breathing exercises. If you find that your stress levels are too high, consider ways to cut back on activities or to re-arrange your schedule so you have more down time. Putting yourself first is essential so that you can be there for others. You're not letting anyone down by taking a twenty-minute breather to do a quick guided meditation.
Relaxation doesn't have to be overly time-consuming. Sometimes planning big things with an already busy schedule will just add to the stress. Consider these quick and simple ways to relax and get better sleep:
Get seven to eight hours of sleep each night.
Take ten-minute breaks every now and then to do something you enjoy like listen to music or read a book.
Do some deep breathing throughout the day to reduce stress, even if you feel like you don't need it at that moment.
Take a bubble bath or shower before bed for 10 to 15 minutes. Lavender oil can be relaxing and help you sleep better.
Try supplements that promote relaxation like magnesium, melatonin and CBD with MCT oil.
Drink chamomile tea before bedtime. It is natural and effective in relaxation.
2) Don't let your diet slide into bad habits.
If you've been exercising and eating well so far this year, it can seem likely you'll easily continue along the same path when the number of social obligations increases during the holiday season. However, this is when things are most likely to fall apart! So, don't get too cocky.
Source: Andrey_Popov/Shutterstock.com
It's easier to make healthy eating choices when you plan ahead. Try to stock your kitchen with healthy staples like fresh vegetables or fruit, as well as healthy snacks such as nuts and dried fruit. When you feel like you don't have time for a meal, make sure to prep some of these foods ahead of time so they're ready to go if needed.
If you want to eat out but aren't sure what options are available (or how healthy they will be), consider these tips:
Avoid buffets (most of the time).
Be wary of fried or breaded foods —they can add up quickly!
If you drink alcohol, keep track of how many you've had. You can easily drink a thousand extra calories in an evening if you have too many cocktails.
3) Keep up with exercise.
Despite all the preparation and cooking for social events, it's still important to make sure you make time for regular exercise. Chances are, you have a routine or series of things that you like doing on a regular basis, but the busy holidays can really curb those plans. Even if you only have a little time, try to incorporate physical activity into your day. Do some extra housework or take a brisk walk when it's convenient for you. Making small changes like this can add up and help keep the pounds off!
Some other ways to stay active in simple ways during the holidays when you can't make it to the gym are:
Walk or bike, weather permitting, instead of driving to visit family and friends.
Take short breaks to play with your pets or children at home (a great excuse with some extra cuddling at the end that's good for mental health).
Use stairs or park far away from the door, rather than an escalator or elevator, when possible.
4) Find some fun activities that will reduce stress.
This is perhaps the most important tip of all — no matter how hard we try to stay healthy at this time of year, things are bound to get stressful. Making sure you have some fun activities planned for the times you'll be feeling particularly overwhelmed will help reduce stress levels.
So, if none of the above tips seem to work for you, try to find some fun activities that will help reduce that stress before it even becomes an issue. Try new things like this with family and friends to make the most of the season! This could be anything from yoga classes with the kids to baking with your best friend. Or maybe it's an especially stressful season for you this year and you need to go axe throwing? We've all been there!
Source: Scott Biales DitchTheMap/Shutterstock.com
Still Need Help?
If none of these ideas work for you, get creative! Think outside the box and make sure not to put too much pressure on yourself. Keep in mind that the holidays should be a time to enjoy and relax. It should not be about stressing out over food and exercise.
If your schedule is particularly busy, make sure the people in your life know what to expect from you during this holiday season. Being open with those around you will help reduce stress levels all around. And, if all else fails, reach out to a mental health professional. There's never any shame in asking for help. We all need it sometimes.