13 Incredible Health Benefits of Cucumber Seed Oil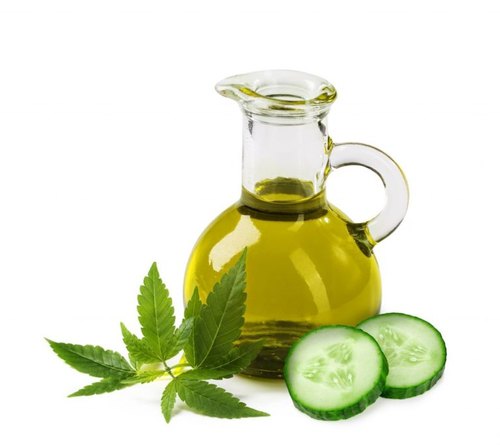 The first thought that comes to your mind after seeing cucumber is that "it's so refreshing". This popular vegetable is usually utilized to prep meals and create various recipes including curries and salads. Not many people know that the oil extracted from cucumber offer ample health benefits. The cucumber seed oil has soothing and detoxifying properties and even possesses essential vitamins and minerals that can benefit your body in one way or the other. Scroll down to discover the benefits of cucumber seed oil and how to use it to your advantage.
Cucumber Seed Oil Benefits
Cucumber seed or essential oil is cooling and moisturizing. The refreshing oil when used topically or orally deliver a multitude of benefits including:
1. Gives Glowing Skin
Cucumber essential oil not only hydrates the skin but also fights free radicals. The vitamin C and E content present in the oil repairs damaged skin cells and restores the youthful glow. To get glowing skin, simply blend cucumber oil with almond oil and massage it on your face and body every night. 
2. Offers Anti-Ageing Benefits
Cucumber has age-defying virtues that help prevent aging signs like wrinkles, melasma, and fine lines. Thanks to the functional existence of tocopherol, vitamin E, and linoleic acid that stimulate collagen production, guard the skin against free radical damage, and improve skin elasticity. Massaging your skin with cucumber and orange oil blend will decrease aging symptoms and other skin woes like dull skin and psoriasis.
3. Protects from Sun
Cucumber oil has alpha as well as gamma-tocopherol that guards the skin against harmful effects of the sun rays. The vitamin C content offers protection from cumulative sun damage and also cures suntan. Simply add some cucumber oil to your daily SPF and apply it before heading outdoors.
4. Fights Dry Skin
The omega 6 fatty acids and water present in cucumber oil help treat dry skin and dry skin problems like eczema and dermatitis. Apply the mighty oil on the face and body to remedy dry skin in no time.
5. Cures Dark Circles
You might be aware of the potent nature of cucumbers when it comes to treating dark circles. Cucumber oil has soothing ingredients that offer a relaxing effect on the eyes and surrounding tissues. The high levels of vitamin K help take the edge off dark circles and puffiness. To eliminate dark circles and soothe puffy eyes, simply dab some oil on a cotton ball. Using this ball, apply the oil to the under-eye area. You can leave the oil overnight and wash it off the next morning.
6. Soothes Inflammation
Cucumber oil has anti-inflammatory agents like linoleic acid and oleic acid that work effectively in curing inflammatory skin disorders. Its nourishing and revitalizing qualities work on fungal infections, muscle swelling, joint pain, and so forth. Not to mention, the antioxidant properties of ascorbic acid present in the oil eliminate toxins, free radicals, and extra fluid deposits from the system and replenish the system to pacify inflammation.
Take cucumber oil and mix it with sweet almond oil. Massage the resultant on the affected areas to soothe swelling, soreness, pain, or redness.
7. Relieves from Constipation 
Cucumber oil has laxative properties that can cure gastrointestinal problems and ease bowel movements. It can also benefit those who are suffering from ulcers. To ease digestive discomfort or pain, drink cucumber juice infused with cucumber oil. Alternatively, add cucumber seed oil to any fruit juice or smoothie.
8. Boosts Hair Health 
Cucumber has sulfur, silica, and vitamins C & E that treat hair loss and promote hair regrowth. Also, if you have scalp conditions like dandruff, cucumber oil can extricate those white flakes and associated itchiness. The hydrating and nourishing properties of the oil will also restore dry and damaged tresses. For smooth and shiny locks, massage your scalp with an oil blend containing cucumber oil, Bhringraj oil, and rosemary oil. Leave for an hour before rinsing it out. You can also wrap a warm towel to deeply condition your dry tresses. Make sure to wash your hair with chemical-free shampoo afterward.
Tip: Always wash your hair with distilled water and make sure to wash your tresses after every swimming session.
9. Reduces Symptoms of High Blood Pressure & Diabetes
The oil extracted from cucumber seeds contains potassium, fiber, and magnesium that lower high blood pressure levels. Cucumber also balances insulin levels by energizing the secretion of insulin hormones. This eventually helps in diabetes management. A study found that cucumbers reduce oxidative stress and help prevent diabetes-related complications. Consume fresh cucumber juice every day infused with cucumber oil to achieve optimal blood pressure and glucose levels. 
10. Dispels Bad Breath
Do you know cucumber seed oil can work on bad breath and problems like halitosis? Thanks to its phytochemicals and refreshing properties! Simply gargle with water infused with cucumber oil every morning to avoid nasty breaths.
11. Aids in Digestion
Cucumber oil has the ability to pacify pitta dosha. Excessive pitta dosha causes digestive fire and leads to acidity, heartburn, digestive ulcers, etc. A combination of cucumber and peppermint oil can be a boon to abdomen and ingestion problems. Dilute some cucumber oil in peppermint essential oil and massage it on your abdomen or stomach region before the meal and at nighttime.
12. Helps with Weight Loss
Cucumbers not only add freshness to your salads and sandwiches but also act as a low-calorie staple. That means you can relish plenty of cucumbers and consume its oil without orchestrating weight add. The high water content of the vegetable keeps you full for longer and also aids in weight loss. One analysis from multiple studies shows that consuming foodstuff with low-calorie and high water content leads to a significant decrease in body weight.
13. Relaxes Mind
Cucumber essential oil has calming properties and hence delivers therapeutic benefits. Spraying some drops of cucumber oil in the air can relax your mind in no time. You can also add this oil to your bath or shower to flush out toxins from the body and soothe your senses.
To redeem the benefits of cucumber seeds, grab cucumber seed oil and use it to enhance your overall health.