12+ Hair Care Tips From Experts for Beautiful Healthy Hair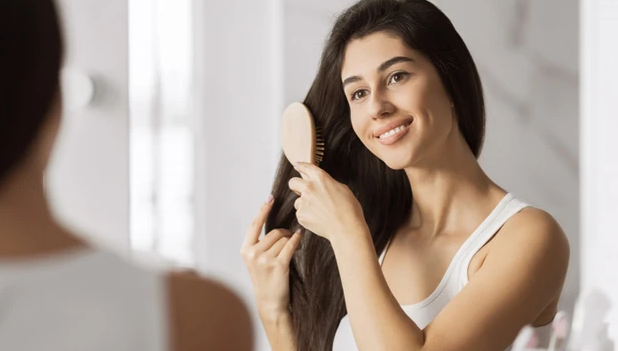 Bad hair day shouldn't make you feel that your tresses are unworthy of all the praise. Even if you have dull or damaged hair, you can restore its health and make them look gorgeous than ever before. All you need to do is to follow a holistic approach that entails eating a balanced diet, following proper hair hygiene, and making positive lifestyle changes. And if you are wondering how to take care of your hair or how to keep your hair healthy, these hair care tips straight from experts will benefit you greatly.
Hair Care Dos
If the thought 'what should I do with my hair' often strikes your mind, follow these hair care dos and keep your tresses in the best state possible.
1. Wash Hair Regularly
Washing your locks regularly keeps them dirt and oil-free. How frequently you should wash your hair will depend on your hair type. If you have oily hair, wash your hair thrice a week. And if dry scalp is your concern, shampooing once or twice a week is a wise idea.
2. Use Chemical-Free Hair Care Products
Although it's hard to find chemical-free hair care products, they are indispensable for optimal hair health. At least, look out for shampoos, conditioners, and hair serums that are free of toxins like sulfates, silicones, and parabens. Avoid hair coloring treatments that are imbued with ammonia and other skin irritants. You can use natural henna and indigo hair treatment to treat your greys. To cleanse your hair, use Reetha or coconut milk and aloe vera gel to condition your tresses.
3. Deep Condition Once a Week
While conditioning your hair after every shampooing session will give you smooth hair, nothing can beat deep conditioning. This conditioning is usually done with oils and hair packs that offer certain vitamins and minerals to the scalp and hair so that they remain healthy. So, deep condition once a week. To do that, wash your hair with coconut water or milk. Once they are dry, massage the scalp and hair with aloe vera and vitamin E oil blend. Wear a shower cap for an hour and then rinse with water. You can also leave the blend overnight and wash your hair the next morning for better results. For those with dry tresses, curd and egg mix is another great deep conditioning hair pack. Some other ingredient combos you can use to deep condition your tresses include:
Coconut oil + curry leaf power + fenugreek powder
Rosemary oil and jojoba oil blend
Flaxseed gel and aloe gel
4.Opt for Hot Oil Treatments
Hot oil treatments before pre-shampoo sessions increase blood circulation and allow for the best delivery of nutrients to the scalp and hair follicles. Oiling and massaging frequently nourish hair, boost new hair growth and offer shine to hair. To do hot oil treatments, you can use almond oil, mustard oil, castor oil, coconut oil, or any other natural oil of choice.
5. Condition Post Hair Wash 
Conditioning after wash guards hair against heat, sun ways, and other stressors. Make to condition rightly to redeem the benefits. Always apply the product on the tips and never on the scalp. Leave for 2-5 minutes and then rinse thoroughly.
6. Dry Hair Naturally
You might be aware of the disadvantages of blow-drying your hair. The heat from blow dryers can damage your scalp and hair follicles. It takes away all the moisture from your tresses and makes them dry and eventually prone to breakage. So, always let them dry naturally. If you are in a hurry, you can use a cold air setting for your dryer. Also, make sure not to comb hair until they are completely dry.
Tip: Another great tip for those who want to know how to keep long hair healthy is to sleep on satin or silk pillowcases.
7. Do Heat-Free Styling
We know that those beachy waves or curls will make you look more gorgeous but such hairstyles can damage your hair. Reason – these hairstyles are usually done with the help of curlers, straighteners, and other such heat-styling tools. So limit styling your hair with these tools. Always use a hair serum or heat protectant before using the tools. The best is to achieve hairstyles using natural ways. For instance – you can get curls, waves, and similar hairstyles using hair ties and hairpins.
8. Trim Hair Regularly
Trimming your tresses every few weeks will ensure you have no rough split ends or damaged hair. This will not only keep your hair healthy but will also promote healthy hair growth.
9. Take Hair Supplements 
As mentioned above, one needs to follow a holistic approach to achieve healthy hair. This includes intake of a well-balanced diet that can offer your scalp and hair desired nutrients. We all know hair structure consists of proteins so the right protein dose is crucial to keep hair strong and healthy. For this, include protein-rich foods in your daily diet. This can include eggs, dairy, meat, nuts, seeds, legumes, soy, and fish.
Apart from proteins, you need iron, biotin, zinc, and vitamins A, C, and E. According to scientific studies, deficiency of these nutrients can lead to hair thinning and hair fall. To prevent such conditions, consume these nutrients on a daily basis. The Recommended Dietary Allowance (RDA) for zinc is 11 mg a day for male adults and 8 mg for female adults.  For iron, it is 8.7mg a day for a guy over 18 and 14.8mg a day for a woman aged 19 to 50. 
Include these foods listed below to get the right dose of hair-benefiting vitamins and minerals.
Iron – Spinach, soybeans, red meat, nuts, chickpeas, red kidney beans
Biotin – Soybean, nut, nut butter, bananas, cauliflower, and whole grains
Zinc – Chickpeas, nuts, mushrooms, spinach, kale, chicken, tofu, and broccoli
Vitamin A – Milk, yogurt, cheese, eggs, oily fish, meat, and leafy green vegetables
Vitamin C – citrus fruits, strawberries, bell peppers, potatoes, and Brussels sprouts
Vitamin E – Sunflower seeds, almonds, olive oil, pumpkin, and wheat germ oil
Don't forget to take plenty of healthy fluids to ensure good hair health.
10. Protect From Sun
UV rays from the sun can damage hair cuticles. Sun damage can result in the form of dry and brittle hair, split ends, frizzy hair, hair thinning, and discoloration. To protect your hair from the sun, always wear a cap or scarf when outdoors. You can also invest in hair sunscreen.
Hair Care Don'ts
To keep your hair in its best state of health, you need to be mindful of certain things.
1. No Chemicals
We repeat! Chemicals from shampoos, hair treatments, etc. can impact your scalp and hair follicles negatively and engender damage that is usually difficult to reverse. Along with chemicals, do not use heat styling and always offer protection from the sun.
2. No Stress
Stress causes hair loss as per science so make sure to avoid it. Although stress is inevitable at times, you can always try to combat it. Worry little and always try to smile. De-stress by performing meditation for at least half an hour every day. If you don't have time, try active meditation.  You can also take up activities you love to relax your mind. This can include gardening, crafting, listening to music, and even taking a bubble bath. 
3. No Hot Shower
Hot showers suck the scalp's natural oils and make it dry in no time. So, avoid them at all costs. Instead, try a relaxing cold shower to boost your endorphins or feel-good hormones.
Follow these dos and don'ts suggested by hair care experts and enjoy healthy hair. Stay tuned to our blog for hairstyles tips and tricks.